Introduction
The 8KHAL+ was a very affordable KT266A board. Compared to EpoX' flagship KT266A offering, the 8KHA+, it has only five PCI slots, lacks the POST code display and features only a 2-phase CPU VRM. Despite the fact, that the 8KHAL+ was a product that was clearly aimed towards the budget market with its small, cost-reduced PCB, it offered OC options and memory settings identical to much more expensive flagship KT266A boards.
In total, EpoX released three KT266A boards, of which the 8KHAL+ is the "most recent". The differences in short:
8KHA+ = VIA KT266A/VT8233 chipset
3-phase VRM, six PCI slots, diagnostic LEDs. active chipset cooling, ATA100 IDE, large PCB
8KHAL = VIA KT266A/VT8233 chipset
Budget offering, smaller PCB, 2-phase VRM, five PCI slots, no diagnostic LEDs, passively cooled northbridge, CPU ratio and voltages only configurable via DIP switches
8KHAL+ = VIA KT266A/VT8233A chipset
Updated version of the 8KHAL with slightly altered PCB. Newer southbridge with ATA133 IDE. No DIP switches anymore, BIOS settings largely similar to 8KHA+
Specifications and Features
Chipset:
VIA KT266A (VT8366A) Northbridge
VIA VT8233A Southbridge
CPU Support (with latest BIOS):
Athlon Thunderbird (ALL)
Athlon XP Palomino (ALL)
Athlon XP Thoroughbred (all FSB266 models up to 2200+)
Duron Spitfire (ALL)
Duron Morgan (ALL)
Memory Support:
3 DDR DIMM slots, up to 3GB total
Expansion Slots:
1x AGP slot (1,5 / 3,3V) up to 4x
5x PCI slots
Connectors (internal):
2x IDE (UDMA133)
1x Floppy
2x USB 1.1
3x 3-pin fan connectors total (1x CPU, 2x chassis)
Connectors (external):
2x PS/2
2x COM/RS-232
1x Parallel Port
2x USB 1.1
3x 3,5" Audio Jacks (Line-Out, Line-In, Mic)
Gameport
You might have noticed, that I didn't mention the audio chipset specifically, as I think far better solutions than the old onboard chipsets are readily available for little money. Very commonly recommended are the Creative Soundblaster Live! cards for example, which offer fantastic compatibility with our beloved old games and sound far better than any onboard solution of that era.
I also don't list (from a retro-gamers perspective) useless connectors and features like IR, Smartcard- or Wake-on-LAN connectors and so on.
Overclocking Features:
Adjustable Multiplier (BIOS) from x6 to x15
Adjustable FSB (BIOS) from 100 to 183 MHz in 1 MHz steps
Adjustable VCore (BIOS) from 1,400 V to 2,200 V in 0,025 V steps
DDR Voltage (BIOS): up to 3,20 V in 0,10 V steps
AGP Voltage (BIOS): up to +0,70 V in 0,10 V steps
Apart from the initial FSB selection of 100/133 MHz via jumper, the 8KHAL+ offers a completely jumper-free setup experience. Multiplier, FSB as well as voltage settings can all be done from within the BIOS. Although the "JCK1" jumper lets you set the initial FSB to 100 or 133 MHz, the FSB can be adjusted from 100 to 183 MHz in 1 MHz increments in the BIOS, regardless of the jumper setting. The maximum configurable FSB is a bit lower (183 vs. 200 MHz) than on EpoX' flagship KT266A board, but the 8KHAL+ offers a wider range of VCore settings as well as adjustable AGP voltage, which its bigger brother, the 8KHA+, lacks.
Documentation, Downloads, Drivers
Another iconic brand from back in the day that closed doors many years ago, is EpoX. Unlike Abit for example, it is not an easy task to find downloads and information on EpoX mainboards.
In terms of BIOS downloads, you can find the only two existing versions that I am aware of here:
https://www.elhvb.com/mobokive/archive/epox/bios/index.html
Just use Crtl+F there and search for "8khp" to find the files. The required flash tool and a changelog documentation is also included in the download.
For documentation, you should also find most manuals there:
https://www.elhvb.com/mobokive/archive/epox/manuals/index.html
Though there is no manual for the 8KHAL+ in particular, there is one for the 8KHAL. Since the boards are very similar, it should be helpful enough. It can be found in this subdirectory:
https://www.elhvb.com/mobokive/archive/epox/manuals/KT266-KT266A/index.html
Please note, that the aforementioned site only offers downloads for older EpoX Models. For documentation of "more recent" EpoX motherboards you have to look elsewhere, like here for example:
https://www.manualslib.com/brand/epox/motherboard.html
Regarding CPU support you can find the info here: https://www.cpu-upgrade.com/mb-Epox/index.html
I already use this site for a long time and I always found the info to be very accurate. I cannot remember that I had a motherboard, that was not featured there. Great site.
To obtain drivers, take a look at this site: https://soggi.org/drivers/drivers.htm
It offers driver downloads for a huge share of old chips (network, storage, chipset, etc.),
To sum it up: using a motherboard of a manufacturer that is not around anymore might not be as straightforward as using an Asus or Gigabyte motherboard, for example. Especially with Epox motherboards you will have to search a little bit longer for everything you need to build your system. But I think it is worth the time, because EpoX released a number of very good motherboard models, which can be a solid foundation for your retro-build.
Design & Layout
The EpoX 8KHAL+ has a very compact layout. It is quite good for the most part, but due to some tall capacitors close to the CPU socket, there are some drawbacks regarding compatibility with large coolers. On the plus side, however, we have a horizontally oriented CPU socket, that keeps a good distance to the top edge of the board. This helps with some Cooler Master coolers, that have a lever on the mounting clamp, like the HHC-001.
I tested the following eight CPU coolers regarding compatibility:
Thermaltake Silent Boost K7
Cooler Master HHC-001
Swiftech MCX 370
Alpha PAL 6035
Alpha PAL 8045
Smartcooler 60mm
Arctic Cooling Copper Lite
Out of these, only the Alpha PAL 8045 does not fit at all, as there are several caps in the way. The second largest cooler in this test, the Thermaltake Silent Boost K7, makes contact to multiple capacitors but is still mountable.
For all coolers that fit between the capacitors around the CPU socket, the installation is relatively easy, since there is sufficient space to reach the mounting mechanism on both sides of the CPU socket.
The ATX power connector is placed a little unfortunate to the lower left of the CPU socket, but since the CPU socket sits quite low, it should be possible to route the ATX power cable above the CPU socket, even with large coolers as the Silent Boost or the Arctic Copper Lite for example.
Directly above the AGP slot, we have the CMOS battery socket. Although this is a farly uncommon location, the battery is easily accessible for repacement. The "Clear CMOS" Jumper is located in the lower right corner and therefore also quite easy to access - in case you have a rather short PCI card installed to PCI slot #5. In the same corner, we find the Floppy connector. Given the small PCB size, this location is quite ok. Since it is placed pretty low, the floppy cable should be long enough to be routed down and then upwards again on the back of the board, to have it come out where the floppy drive is located in most classic computer cases.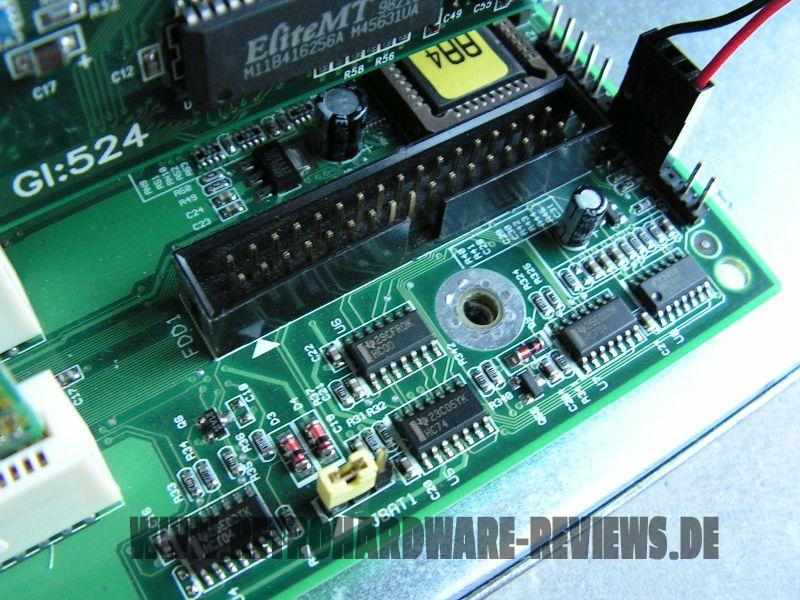 The IDE connectors, on the other hand, are perfectly placed on the right edge of the board, slightly above the AGP port level and to the right of the memory slots, which themselves are placed high enough to not get blocked by the AGP card.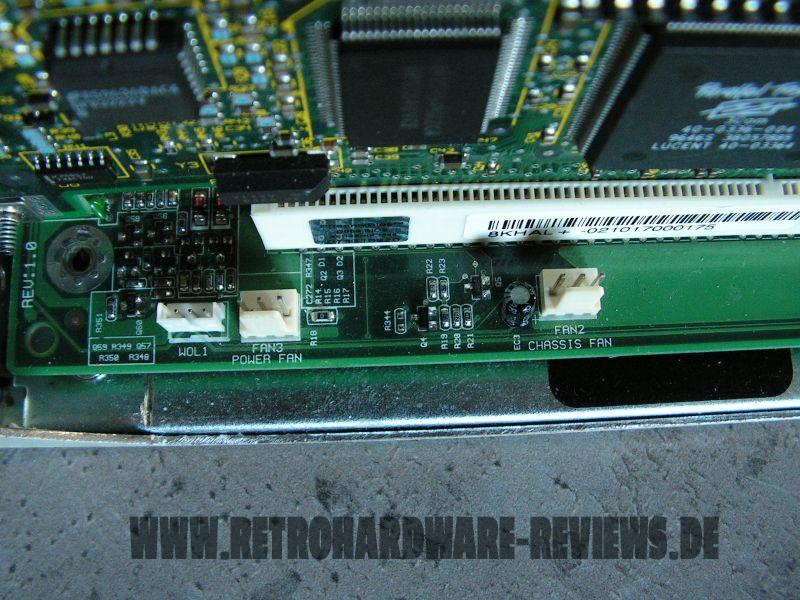 In terms of fan connectors, we have two additional connectors for case fans, which are both located on the bottom egde of the board. While the connector in the lower left corner should be accessible enough for the connection of a rear fan, the second one, which is not much further to the right, might be out of reach for connecting a front fan (depending on its cable length).
Test-System and Parts
Baseline Setup:
CPU: AMD Athlon Thunderbird 1200C (FSB133)
Because I want to compare 1st Gen Socket A mainboards to their DDR follow-ups I have to use a CPU, which is available in FSB100 and FSB133 versions with the same clockspeed. Since I sadly don't have a Thunderbird 1400 B at my disposal, I will use the Thunderbird 1200 for my reviews and comparisons of these boards, which I have in the "B" (FSB100) and "C" (FSB133) version.
RAM: 1x Corsair CMX512-3200C2 (XMS3202v4.2) = 512MB PC400 CL2
This Corsair XMS stick should allow the tightest timings at 266 MHz DDR and its size of 512MB is the perfect choice for Windows 98SE.
VGA: MSI Geforce 4 TI4200-VTD8X
To remove any GPU bottleneck for testing, I chose a Geforce 4 Ti as the primary graphics card for my test setups. The Geforce 4 Ti series are also known to pull a lot of power from the AGP port, so that possible problems in that department can also be revealed. It is also somewhat period correct and a good match for a high performance retro-machine that should be able to run late Windows 98SE games without any issues.
VGA2: 3dfx Voodoo 5 5500 AGP
Many people consider the Voodoo 5 5500 the perfect card for (Win9x-) retro gaming. The Voodoo 5 benefits from a beefy setup, so a powerful Athlon Thunderbird or early Athlon XP is the perfect match for this card.
Audio: Creative Soundblaster Live! (SB0060)
Creative's Soundblaster Live! can be found in many retro-machines. It offers great sound, perfect Win98SE compatibility and is still widely available for reasonable money. It was also known to cause problems with VIA-based 686B southbridges using old BIOS revisions and VIA chipset drivers. All this should be history at this point, but double checking on pontentially affected mainboards is still not a bad thing to do.
LAN: 3Com Etherlink XL PCI
Just a good, reliable choice for networking. All legacy Windows versions all the way up from Win95 have built-in drivers for it, which is also a huge "plus".
HDD: Western Digital WD200BB (20GB 7200RPM)
No special intention behind this drive, it is just "there" and still works fine.
Additional Hardware for certain Tests:
Silicon Image Sil3512 SATA Controller & Samsung PM871 128GB SSD
These two will help me measure the PCI bandwidth.
Hitachi Deskstar T7K500 (500GB 7200RPM)
This drive will tell us, how big we can go with the onboard IDE connectors and how the performance is like.
2x Voodoo 2 12MB (SLI)
A pair of Voodoo 2s is a must have for any retro-machine, that doesn't feature a 3dfx card as the primary VGA solution. They offer compatibility to older Glide games and can be used with any more powerful primary graphics card. It is an important thing to know, how well these perform and if there are differences between all the available Socket A chipsets of that era or even between boards using the same chipset.
Drivers used:
Chipset: VIA Hyperion 4in1 4.56v
Geforce 4: nVidia Forceware 43.45
Voodoo 5: Amigamerlin 2.9
Voodoo 2: FastVoodoo 4.6
SB Live!: Some driver from my archive, not shure 😉
3Com NIC: Windows 98SE preloaded driver
SATA Controller: Some driver from my archive, not shure 😉
System Setup and Usage
Having reviewed the 8KHA+ before, the setup process of the 8KHAL+ was fast and easy. Essentially, it is somewhat of a shrinked version of the 8KHA+: The BIOS options are completely identical (apart from minor differences in detail, that have to do with voltage options and a slightly smaller FSB range) and the INT routing / IRQ sharing is also the same as on the 8KHA+. Similar to the 8KHA+, the INT routing is pictured in the board's manual:
The AGP Port, onboard audio and USB controllers assign their IRQs on the following INT lines:
INT-A: AGP
INT-B: free
INT-C: onboard audio
INT-D: USB controller
Based on this combined information, we have two free INT lines available, once the onboard audio is disabled (along with other unused onboard devices like serial and parallel ports, etc.). These sharing-free slots will be used by the SB Live! and the 3Com NIC. The SATA controller will be left out until the Voodoo 2 benchmarks are done and then installed into PCI #4, sharing an IRQ with the USB controllers. Which looks like this:
PCI #1: free
PCI #2: SB Live!
PCI #3: Voodoo 2
PCI #4: Voodoo 2
PCI #5: 3Com NIC
With this setup, I could complete all benchmarks without issues. The SATA controller also showed no problems with the IRQ sharing.
But there is one issue I experienced at the very beginning, that I want to mention. Since many classic CPU coolers with 60mm fans are quite noisy (the Alpha PAL 6035 and Cooler Master HHC-001 being prime examples), I use a small adapter cable with a resistor, to reduce the fan speed to bearable noise levels. The 8KHAL+ seems to have problems with this and reports fan speeds of around 50k (!) RPM. Sometimes the system also hangs at the POST screen with such an adapter. I don't know if it has issues with low spinning fans in general or if this is caused by the adapter piece, but I think it is definitely worth mentioning.
Benchmarks
Synthetic Measurements
Before we get into the 3DMark and gaming benchmarks, let's have a look at some theoretical numbers. These synthetic tests will exhibit the differences between the several chipsets and boards better than any game benchmark and provide us with "background information" that might be of use in understanding the timedemo results later.
Memory Performance: AIDA64 Cache & Memory Benchmark
In the Memory Bandwidth test, the EpoX 8KHAL+ shows by far the lowest memory bandwidth of all KT266A boards tested, but is still on the level of the A7N266-C with the nForce chipset.
The Memory Latency test looks even worse. With 127,8ns it has by far the highest latency of all boards tested and even falls behind the Shuttle AK32A using SDR memory. This is a catastrophic result, especially taking the configured CL2 2-2-5 timings into account, which should result in a much lower latency, like all the other KT266A based boards show.
Application Performance: 7-Zip
The results in the 7-Zip benchmark don't look as bad, but still the shown performance is yet again closer to the AK32A with SDR memory than it is to the next faster board with DDR memory (which in this case is its "bigger brother", the EpoX 8KHA+).
AGP Performance: Final Reality Benchmark
With the GeForce 4 Ti in the slot, the EpoX 8KHAL+ scores roughly 315 MB/s of AGP bandwidth, which is around the level of most other KT266A boards in the test. With the Voodoo 5 5500 installed, it shows the lowest bandwidth of the testfield. But still, it is less than 10 MB/s behind the top entry, so nothing to worry about.
AGP and PCI Performance: 3DMark 2000 and ATTO
3DMark 2000 as a whole is very focused on TnL and is by far not as interesting for retro-hardware comparisons as its predecessor. Its "High Polygon Count, 1 Light" test, however, is another good way to measure the AGP performance. In opposite to the Final Reality test, the general system performance is also somewhat of importance. The benchmark was executed with the Geforce 4 Ti installed.
To measure PCI performance, I installed a Windows 98SE compatible SATA controller with a Samsung PM871 128GB SSD connected into the system. For the bench, I chose 1024 to 4096 KB block size and picked the overall best values for the read and write throughput. This test will show, which maximum performance can be expected with fast storage options like SATA or SCSI and maybe gives a hint, if the chipset might be good for Voodoo 2 cards.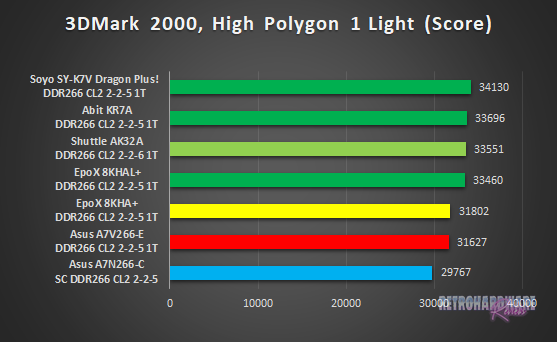 The results of the 3DMark2000 sub-test surprised me a little bit to be honest. The 8KHAL+ does really well, with performance close to the top boards in this test. I didn't expect that to happen, after the mostly poor results (especially in the memory tests) we saw before.
In terms of PCI bandwidth, however, the 8KHAL+ performs very similar to the 8KHA+ - which is not a good thing in this case. With write rates of just over 40 MB/s, the EpoX board can not exactly be recommended for fast storage options.
Storage Performance: HDTach
To measure the performance of the board's IDE and (if available) onboard IDE RAID solutions' performance, I benched one of the latest and fastest IDE drives (the Hitachi Deskstar T7K500 500GB) with the HDTach benchmark. I also tried a much more "recent" drive (the Western Digital Blue Edition 500GB), which should be even faster in theory, but the Hitachi drive produced much better results in this test.
All boards perform very similar with the harddisk connected to the chipset's IDE ports, but the Epox 8KHAL+ is the only board that squeezes more than 80 MB/s out of the drive, thanks to its newer VIA VT8233A southbridge.
Gaming Benchmarks
Now that we got all the theoretical performance numbers, let's see how the contenders perform in 3D gaming benchmarks.
3D Performance: 3DMark99max
3DMark99max was released in early 1999 and comes without support for Hardware TnL. The maximum supported (hardware-) DirectX level is DX6. It is a great benchmark to reveal good overall system performance, as it rewards good memory bandwidth and latency more than the slight clockspeed advantage, that some boards have because of their factory-overclocked FSBs.
Version: "latest"
Settings: standard
With the Geforce 4 Ti installed, the EpoX 8KHAL+ performs considerably worse than all the other boards using DDR memory. Only the Shuttle AK32A with SDR memory is slower. But things get even worse with the Voodoo 5 in the system: EpoX' budget board is just over a hundred points ahead of the Shuttle AK32A with SDR memory, but more than 400 points behind the next board.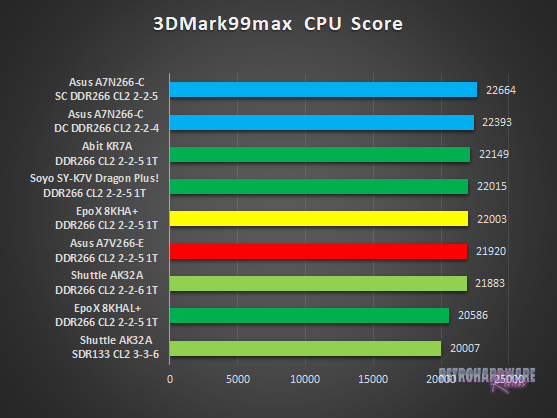 The Voodoo 2 cards don't have such a high demand in terms of system performance, so things look a lot better here. All KT266A boards a relatively close together, with the 8KHAL+ being no exception.
But the relatively poor system performance we observed in the initial synthetic tests shows in the CPU score of 3DMark99max. While all other KT266A boards with DDR memory are pretty close together, the EpoX board is almost 1300 points behind the next board and less than 600 points ahead of Shuttle's AK32A with SDR RAM.
3D Performance: Unreal Tournament (UT99) Timedemo(s)
Unreal Tournament (UT99) was released in November 1999 and is notorious for its hunger for CPU power. I chose to use two different timedemos for comparison, of which the utbench.dem timedemo is heavily CPU bound and therefore qualifies to measure the general performance of the boards. The second timedemo benchmark.dem is as GPU limited as possible in this game. This will reveal, how much impact a faster board can still have in more GPU limited situations. This game is also perfect to show, on which chipsets and boards Voodoo 2 cards run best.
Version: 4.36
Settings: High, Min desired Framerate "0", Show Decals [x], Use Dynamic Lightning [x]
Geforce: D3D
Voodoo 2 and Voodoo 5: Glide
The CPU bound utbench.dem timedemo has the boards scoring fairly identical, with the 8KHAL+ on the second last place performing closer to the rest of the DDR-RAM equipped contestants, than to its SDR-RAM equipped "arch-rival".
The rather GPU-limited benchmark.dem timedemo pulls the results somewhat apart, but the EpoX board, still ranking second-to-last, performs quite okay compared to the higher ranked boards.
In CPU-limited situations, the lack of performance is well visible when using a lightweight 3D API like 3dfx Glide with little driver overhead. The difference to the faster boards in the utbench timedemo is much more obvious with the Voodoo 5 installed than it was with the GeForce 4 Ti.
In the benchmark.dem timedemo however, we are CPU limited in a (tendentially) GPU limited scene, so all boards are on the same level; even the AK32A with SDR memory is almost as fast as all the other boards.
All (DDR-equipped) KT266A based boards perform next to identical in the utbench timedemo, only the EpoX 8KHAL+ falls behind a bit, especially with the minimum FPS. It's performance here is closer to the Shuttle AK32A's results with SDR memory.
In the benchmark.dem timedemo, the board performs in line with most other KT266A based boards.
3D Performance: Quake III Arena Timedemo
Quake 3 Arena was released shortly after Unreal Tournament, in December of 1999. It is known to reward fast memory latency and with its normal preset, it is completely CPU limited; at least for the GeForce 4 and the Voodoo 5. The Voodoo 2 SLI cards clearly limit the Athlon 1200 here, as the timedemo will show.
Version: 1.32
Settings: "Normal" Preset, only resolution changed to 1024x768x16
Geforce 5 and Voodoo5: OpenGL
Voodoo 2: "Voodoo" Renderer (miniGL)
While most boards perform very comparable (almost identical) with both the GeForce 4 and the Voodoo 5 installed, the EpoX 8KHAL+ falls behind in both cases. The catastrophic memory latency values of the board really shines through in the Quake III Arena benchmark.
The Voodoo 2 SLI setup clearly limits here. All KT266A based boards score the same FPS, the nForce board is also just 0,1 FPS behind.
EpoX EP-8KHAL+ (VIA KT266A)
Layout

Features

Overclocking Options

Compatibility

Documentation & Support

Performance: GeForce 4 Ti 4200

Performance: Voodoo 5 5500

Performance: Voodoo 2 SLI
OVERALL
| | |
| --- | --- |
| Pros | Cons |
| + Great IDE performance | – Rather low overall performance for a KT266A board |
| + Lots of overclocking options | – Bad PCI performance |
| | – Bad fan header location(s) |
| | – 2-phase VRM limits OC potential |
| | – Compatibility problems with big CPU coolers |