Introduction
My first Socket A machine was already based on the VIA KT333, so I missed the whole "Thunderbird / SD-RAM" era, with which Socket A began. Sure, I used at least two KT133A-based machines for a longer period of time in the past years, but I never really used systems based on the first two incarnations of Socket A chipsets - AMD's 751 Irongate (which initially was AMD's chipset for the Slot A platform) and the VIA KT133, which was the successor to VIA's KX133 Slot A chipset and actually the first chipset built solely for the Socket A platform.
A fellow member of the german voodooalert forums gifted me the EpoX EP-8KTA2 some time ago, which I will be reviewing today. From my research, I found out that the EP-8KTA2 is the third KT133-based motherboard from EpoX and an evolution of its predecessors EP-8KTA and 8KTA+. Unfortunately it is rather difficult to find information about the differences, but it seems like the PCB itself remained unchanged, at least between the 8KTA+ and the 8KTA2. The 8KTA+ features one more DIP Switch over the regular 8KTA, but I could not find a picture of the vanilla 8KTA that is good enough to compare it in more detail. So - as far as I could research it, the 3 models differ as follows:
8KTA: First EpoX Socket A Motherboard
KT133 Nortbridge, 686A Southbridge. FSB adjustable from within BIOS, VCore adjustable via DIP switch
8KTA+: Evolution of the 8KTA
Still KT133 + 686A. Multiplier is now adjustable via an additional DIP switch.
8KTA2: Evolution of the 8KTA+
Southbridge is now the 686B, which adds support for ATA100 drives
Specifications and Features
Chipset:
VIA KT133 Northbrigde
VIA 686B Southbrigde
CPU Support (with latest BIOS):
Athlon Thunderbird (FSB100 models up to 1200 MHz)
Duron Spitfire (ALL)
Memory Support:
3 SDR DIMM slots, up to 1,5 GB total
Expansion Slots:
1x AGP slot (1,5 / 3,3V) up to 4x
6x PCI slots
1x ISA Slot (shared with PCI #6)
Connectors (internal):
2x IDE (UDMA100)
1x Floppy
1x USB 1.1
3x 3-pin fan connectors total (1x CPU, 2x chassis)
Connectors (external):
2x PS/2
2x COM/RS-232
1x Parallel Port
2x USB 1.1
You might have noticed, that I didn't mention the audio chipset specifically, as I think far better solutions than the old onboard chipsets are readily available for little money. Very commonly recommended are the Creative Soundblaster Live! cards for example, which offer fantastic compatibility with our beloved old games and sound far better than any onboard solution of that era.
I also don't list (from a retro-gamers perspective) useless connectors and features like IR, Smartcard- or Wake-on-LAN connectors and so on.
Overclocking Features:
Adjustable Multiplier (DIP / BIOS) from x5 - x12,5
Adjustable FSB (BIOS) from 95 to 166 MHz in 27 steps
Adjustable VCore (DIP Switch) from 1,475 V to 1,850 V in 0,025 V steps
I/O Voltage (Jumper) 3,40 V / 3,75 V
Documentation, Downloads, Drivers
Another iconic brand from back in the day that closed doors many years ago, is EpoX. Unlike Abit for example, it is not an easy task to find downloads and information on EpoX mainboards.
In terms of BIOS downloads, this is a pretty huge archive: https://www.elhvb.com/mobokive/archive/epox/bios/index.html
It is definitely incomplete and does not necessarily offer the latest BIOS versions for every model, but still a good place to start. To find the most recent versions for certain models, you have to fire up your favorite search engine.
For documentation, you should also find most manuals there: https://www.elhvb.com/mobokive/archive/epox/manuals/index.html
Just use Ctrl+F on that site to "navigate", most of the time there are several versions of the manual for each model available and the naming is not exactly "uniform".
Please note, that the aforementioned site only offers downloads for older EpoX Models. For documentation of "more recent" EpoX motherboards you have to look elsewhere, like here for example:
https://www.manualslib.com/brand/epox/motherboard.html
Regarding CPU support you can find the info here: https://www.cpu-upgrade.com/mb-Epox/index.html
I already use this site for a long time and I always found the info to be very accurate. I cannot remember that I had a motherboard, that was not featured there. Great site.
To obtain drivers, take a look at this site: https://soggi.org/drivers/drivers.htm
It offers driver downloads for a huge share of old chips (network, storage, chipset, etc.).
To sum it up: using a motherboard of a manufacturer that is not around anymore might not be as straightforward as using an Asus or Gigabyte motherboard, for example. Especially with Epox motherboards you will have to search a little bit longer for everything you need to build your system. But I think it is worth the time, because EpoX released a number of very good motherboard models, which can be a solid foundation for your retro-build.
Design & Layout
Espescially in the early days of Socket A, many motherboards did not have a very refined layout and the 8KTA2 is definitely among those. There are lots of questionable layout decisions that make building a system based on this particular model quite a challenge. The first obvious problem is the tight space around the CPU socket. There is literally a wall of very tall capacitors, that is very close to the CPU socket, making it really hard to install bigger CPU coolers, some are even impossible to fit onto the 8KTA2.
I tested the following seven coolers regarding compatibility and even though I was able to install all but two of them, most of the time it was no fun (to say the least) to do that:
Thermaltake Silent Boost K7
Cooler Master HHC-001
Swiftech MCX 370
Alpha PAL 6035
Alpha PAL 8045
Smartcooler 60mm
Arctic Cooling Copper Lite
Out of these, the Alpha PAL 8045 and the Arcic Cooling Copper Lite were impossible to install. The big Alpha cooler collides with a small capacitor next to the memory slots and with the Copper Lite, the mounting clamp is inaccesible from one side, so you can't put it over the plastic clips.
Depending on how thick your fingers are, installing the Alpha 6035 is also a huge challenge as you have to push the clamp down with your fingers to have it snap over the clips at the socket. And at the side facing the wall of capacitors there is a very narrow space to do that. It doesn't help either, that the clamp is very hard to push down anyway. As a rule of thumb, classic coolers featuring a one-lug clamp tend to install easier on the 8KTA2, more modern coolers with a three-lug clamp can be very fiddly to install. Some might not even fit at all.
The next unfortunate design-decision is the position of the ATX power connector. Since it is place in the upper left quarter near the VRM section, the ATX power cable has to either be routed beneath the CPU socket which would seriously affect the airflow or above it. But even with a rather small cooler as the Swiftech MCX 370, the space above the CPU socket might be to small if the PSU sits directly above the mainboard.
Another common problem among older Socket A motherboards is, that the memory slots get blocked by the videocard, so that you cannot remove or install memory sticks while your videocard is installed. But the EpoX engineers even managed to have the AGP card interfere with even more parts. The CMOS battery, for example, sits to the left of the AGP slot and to make matters worse, the socket opens downwards when you want to remove the battery. So even if you are able to stick your finger between the AGP card and the battery socket and manage to open the closing mechanism, there is a serious risk that the battery falls down. On top of that, as a little bonus, long videocards as the Voodoo 5 reach over the floppy connector. While the card still fits in when a floppy cable is connected, this can still be a potential annoyance during the assembly of the system.
One of the worst aspects of the layout however, is the location of the IDE ports. Not only are they placed horizontally, but also facing upwards and sit not very far beneath the line of the AGP port. So you have to bend the cable backwards and over the connector itself to not have the cable go up in front of your videocard. This adds height (especially on the secondary IDE port) and potential problems with long PCI cards, in particular in PCI slot #2 and #3. Furthermore, when the IDE cables are bent down, they block the pins of the frontpanel connector and various jumpers. If you have a pair of Voodoo 2 cards installed, you can't access some of these at all and it just looks messy.
Speaking of jumpers - the 8KTA2 features FSB configuration from within the BIOS, but voltages and the CPU multiplier have to be set via DIP switches and jumpers. This is not too much of an issue, as the KT133 is not exactly known to be a good chipset for overlocking experiments. Most KT133 motherboards get unstable below FSB110 already. The DIP switches for the CPU multiplier as well as VCore can be set to "Auto", so you don't have to configure or change anything if a new CPU is installed. There is also a completely useless jumper on the board, that lets you configure the FSB to 133 MHz - I tried it with a Thunderbird 1200C CPU - as expected the system didn't post at all.
The good part of the 8KTA2 is certainly the set of expansion slots. Aside from the retro-friendly 3,3V AGP x4 slot, you not only get a full six PCI slots, but also an ISA slot so that any classic ISA audio card can be installed, too. It also has plently of BIOS options and all the connectors, jumpers and DIP Switch settings are well documented directly on the PCB. Furthermore, aside from the fan-connector for the CPU fan, there are two additional 3-pin fan connectors for your case ventilation present. I just would have liked the connector for the rear fan to be located more in the rear part of the PCB and not in the top right corner. But then again, it is better than to have none at all and most fans should have a cable the is long enough to get there.
Test-System and Parts
Baseline Setup:
CPU: AMD Athlon Thunderbird 1200C (FSB100)
Because I want to compare 1st Gen Socket A mainboards to their DDR follow-ups I have to use a CPU, which is available in FSB100 and FSB133 versions with the same clockspeed. Since I sadly don't have a Thunderbird 1400 B at my disposal, I will use the Thunderbird 1200 for my reviews and comparisons of these boards, which I have in the "B" (FSB100) and "C" (FSB133) version.
RAM: 1x Infineon 256 MB PC133 CL2 + 1x Infineon 256MB PC133 CL3 SD-RAM sticks
Since the 8KTA2 does not accept my available 512 MB sticks I run 2 sticks of 256 MB together. In PC100, both accept the tightest memory timings.
VGA: MSI Geforce 4 TI4200-VTD8X
To remove any GPU bottleneck for testing, I chose a Geforce 4 Ti as the primary graphics card for my test setups. The Geforce 4 Ti series are also known to pull a lot of power from the AGP port, so that possible problems in that department can also be revealed. It is also somewhat period correct and a good match for a high performance retro-machine that should be able to run late Windows 98SE games without any issues.
VGA2: 3dfx Voodoo 5 5500 AGP
Many people consider the Voodoo 5 5500 the perfect card for (Win9x-) retro gaming. The Voodoo 5 benefits from a beefy setup, so a powerful Athlon Thunderbird or early Athlon XP is the perfect match for this card.
Audio: Creative Soundblaster Live! (SB0060)
Creative's Soundblaster Live! can be found in many retro-machines. It offers great sound, perfect Win98SE compatibility and is still widely available for reasonable money. It was also known to cause problems with VIA-based 686B southbrigdes using old BIOS revisions and VIA chipset drivers. All this should be history at this point, but double checking on pontentially affected mainboards is still not a bad thing to do.
LAN: 3Com Etherlink XL PCI
Just a good, reliable choice for networking. All legacy Windows versions all the way up from Win95 have built-in drivers for it, which is also a huge "plus".
HDD: Western Digital WD200BB (20GB 7200RPM)
No special intention behind this drive, it is just "there" and still works fine.
Additional Hardware for certain Tests:
Controller: Silicon Image Sil3512 SATA Controller
Storage1: Samsung PM871 128GB SSD
These two will help me measure the PCI bandwidth.
Storage2: Hitachi Deskstar T7K500 (500GB 7200RPM)
This drive will tell us, how big we can go with the onboard IDE connectors and how the performance is like.
3D: 2x Voodoo 2 12MB (SLI)
A pair of Voodoo 2s is a must have for any retro-machine, that doesn't feature a 3dfx card as the primary VGA solution. They offer compatibility to older Glide games and can be used with any more powerful primary graphics card. It is an important thing to know, how well these perform and if there are differences between all the available Socket A chipsets of that era or even between boards using the same chipset.
Drivers used:
Chipset: VIA Hyperion 4in1 4.56v
Geforce 4: nVidia Forceware 43.45
Voodoo 5: Amigamerlin 2.9
Voodoo 2: FastVoodoo 4.6
SB Live!: Some driver from my archive, not shure 😉
3Com NIC: Windows 98SE preloaded driver
SATA Controller: Some driver from my archive, not shure 😉
System Setup and Usage
When I began to setup the system, I was kind of "looking forward" to experience some of the problems that the Socket A was said to have in its early days. And the 8KTA2 did not disappoint in this respect. Despite using the final BIOS version and despite of the maximum supported RAM size being 1,5 GB, I couldn't get both of my "better" 512 MB SD-RAM sticks to work with EpoX' KT133 contender. My "Infineon 3rd" stick was detected with a memory size of 2 MB(!) and my Kingston Value stick only yielded crashes, no matter how slow I configured the memory timings. In the end I used two different 256MB sticks, but at least I was able to run them at the tightest timings and also 4-way interleave. So no sweat there.
Next, I had to determine the best distribution of expansion cards across the PCI slots. The manual offers no information on INT routing or on which onbaord devices share IRQs with which PCI slot, but luckily in the BIOS I found some information on which devices aer connected to which INT-line. This is what I was abe to see from within the BIOS:
INT-A: AGP
INT-B: free
INT-C: onboard audio
INT-D: 2x USB controller
To complete the picture, I enabled all onboard devices and then plugged the 3Com NIC into one PCI slot after the other to see which PCI slot is connected to which INT line. This lead to the following picture:
PCI1: shared with AGP
PCI2: shared with ACPI controller
PCI3+5: shared with onboard audio
PCI4+6: shared with USB controller
After I had this information, I disabled unused onboard ressources like serial and LPT ports, floppy controller and onboard audio and installed the PCI cards as follows:
PCI #1 free
PCI #2 SATA controller
PCI #3 Voodoo 2
PCI #4 Voodoo 2
PCI #5 SB Live!
PCI #6 3Com NIC
In this configuration, I was able to install all devices without a problem and only the NIC was sharing its IRQ with the two USB controllers - as expected. But somehow the system was very unsmooth and periodically had a second of complete unresponsiveness, where also the mouse got stuck. It felt a little like a harddisk problem. I always have the Coralsoft Win9x Task Manager installed on my retromachines, so opened it to see if I can find anything to locate the problem and I indeed found something interesting. The CPU load went up to excactly 33% every few seconds in regular intervals. I am deeply grieved that I didn't take a screenshot of it when I discovered this problem, because I couldn't reproduce it once I started to troubleshoot this strange behaviour and it was nicely visible in the CPU load history of the task manager. So my journey went on like this (in short):
Remove SB Live! card (since it is known to be a troublemaker on old VIA chipsets)
Reinstall SB! Live! card into the system

Problem is still "solved", but 3Com NIC gets redetected (although it wasn't removed) and installed as unknown device (Windows does not find/accept the integrated driver for it)
Swap PCI slots of SATA controller and NIC (PCI #2 and PCI #6)

Both cards get redetected and install fine; problem is gone
After this I began benchmarking and the system ran without issues - until I tried to benchmark the SSD connected to the SATA controller in PCI slot #6. I started the ATTO disk benchmark, started the test and the system immediately froze completely. After the system reset, the 3COM NIC got redetected (like once before) and installed as unknown device. At this point I've had enough for the day and shut everthing down.
The next day I booted the system without any changes and discovered, that my 3Com NIC was installed and working fine (without it being redected or installed again during the logon process). Before I tried another ATTO bench, I wanted to see if a simple filecopy onto the SSD is possible, but as soon as the copying began, the system froze again.
My next troubleshooting went like this (in short):
Disable/Change PCI-relevant options in the BIOS (like P2C/C2P Concurrency, PCI Dynamic Bursting and so on)

Opening "My Computer" now already freezes the system
Remove SB Live! and 3Com NIC

Problems solved, ATTO bench OK
Reinstall SB Live! into PCI #5
Install SB Live into PCI #2
Install 3Com NIC into PCI #5

ATTO bench still OK, problems solved
So, I had a final setup which worked flawlessly (finally!) and with which I was able to complete all my benchmarks. The configuration looked like this:
PCI #1 free
PCI #2 SB Live!
PCI #3 Voodoo 2
PCI #4 Voodoo 2
PCI #5 3Com NIC
PCI #6 SATA controller
With this setup, I was finally able to complete all tests without futher issues.
Benchmarks
Synthetic Measurements
Before we get into the 3DMark and gaming benchmarks, let's have a look at some theoretical numbers. These synthetic tests will exhibit the differences between the several chipsets and boards better than any game benchmark and provide us with "background information" that might be of use in understanding the timedemo results later.
Memory Performance: AIDA64 Cache & Memory Benchmark
The EpoX board ranks second to last place in both benches, behind all of the KT133A based boards and ahead of the GA-7IXE4 with the AMD750 chipset.
Application Performance: 7-Zip
The EP-8KTA2 ranks second to last again, but performs closer to the K7T Turbo2 ahead of it, than to the last-placed GA-7IXE4.
AGP Performance: Final Reality Benchmark
The AGP bandwidth for the nVidia card is the lowest of all boards tested, but is in the range of the best performing boards with the Voodoo 5 5500 installed.
AGP and PCI Performance: 3DMark 2000 and ATTO
3DMark 2000 as a whole is very focused on TnL and is by far not as interesting for retro-hardware comparisons as its predecessor. Its "High Polygon Count, 1 Light" test, however, is another good way to measure the AGP performance. In opposite to the Final Reality test, the general system performance is also somewhat of importance. The benchmark was executed with the Geforce 4 Ti installed.
To measure PCI performance, I installed a Windows 98SE compatible SATA controller with a Samsung PM871 128GB SSD connected into the system. For the bench, I chose 1024 to 4096 KB block size and picked the overall best values for the read and write throughput. This test will show, which maximum performance can be expected with fast storage options like SATA or SCSI and maybe gives a hint, if the chipset might be good for Voodoo 2 cards.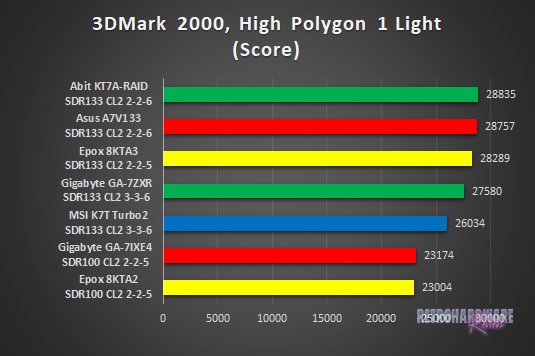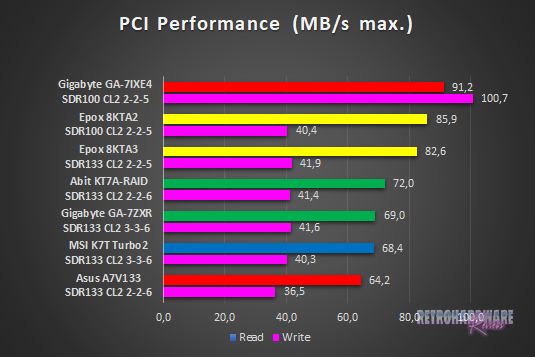 The EpoX board ranks last in the 3DMark2000 sub-test, even trailing the GA-7IXE4. This is a disappointing result, considering the EP-8KTA2 performed better in both of the memory related test and about identically (bad) in the AGP bandwidth test.
The PCI bandwidth test for the board looks pretty good in terms of read performance. However, its write bandwidth is very low, like on all VIA based boards in this test.
Storage Performance: HDTach
To measure the performance of the boards IDE and (if available) onboard IDE RAID solutions' performance, I benched one of the latest and fastest IDE drives (the Hitachi Deskstar T7K500 500GB) with the HDTach benchmark. I also tried a much more "recent" drive (the Western Digital Blue Edition 500GB), which should be even faster in theory, but the Hitachi drive produced much better results in this test.
IDE performance is not great, but the EP-8KTA2 is able to outperform some of the newer boards and takes third place in this test.
Gaming Benchmarks
Now that we got all the theoretical performance numbers, let's see how the contenders perform in 3D gaming benchmarks.
3D Performance: 3DMark99max
3DMark99max was released in early 1999 and comes without support for Hardware TnL. The maximum supported (hardware-) DirectX level is DX6. It is a great benchmark to reveal good overall system performance, as it rewards good memory bandwidth and latency more than the slight clockspeed advantage, that some boards have because of their factory-overclocked FSBs.
Version: "latest"
Settings: standard
Once again two second to last places for the EpoX board. This sounds bad at first, but at least in the case of the Voodoo 5 run of 3DMark99max, the board comes very close to the result of the GA-7ZXR, which is a very good outcome considering the latter runs the CPU at a FSB of 133 MHz.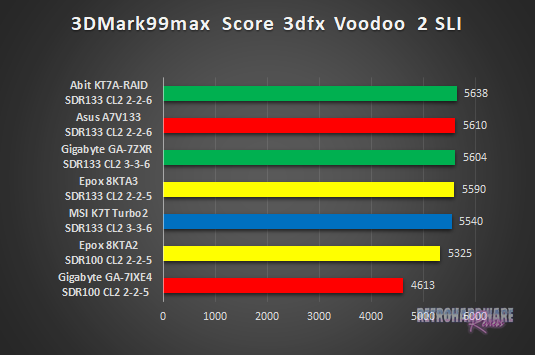 The board's performance with the Voodoo 2 cards slightly lower, but still in the range of the FSB133 boards.
The same goes for the CPU score - it performs noteably better than the GA-7IXE4 and more similar to the KT133A based boards, but still ranks second to last with about 1000 points behind the MSI K7T Turbo2.
3D Performance: Unreal Tournament (UT99) Timedemo(s)
Unreal Tournament (UT99) was released in November 1999 and is notorious for its hunger for CPU power. I chose to use two different timedemos for comparison, of which the utbench.dem timedemo is heavily CPU bound and therefore qualifies to measure the general perfomance of the boards. The second timedemo benchmark.dem is as GPU limited as possible in this game. This will reveal, how much impact a faster board can still have in more GPU limited situations. This game is also perfect to show, on which chipsets and boards Voodoo 2 cards run best.
Version: 4.36
Settings: High, Min desired Framerate "0", Show Decals [x], Use Dynamic Lightning [x]
Geforce: D3D
Voodoo 2 and Voodoo 5: Glide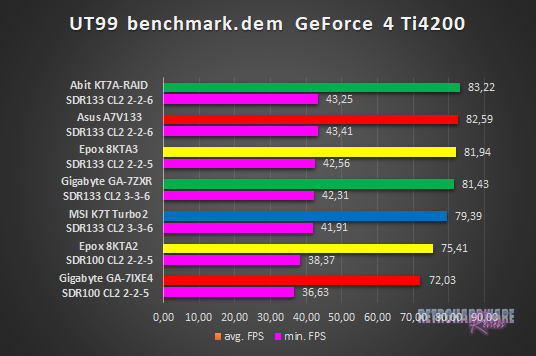 In the GeForce 4 Ti run of the UT benchmarks, the EP-8KTA2 ranks second to last in both timedemos. The performance is a bit closer to the GA-7IXE4, than it is to the KT133A based boards ahead of it.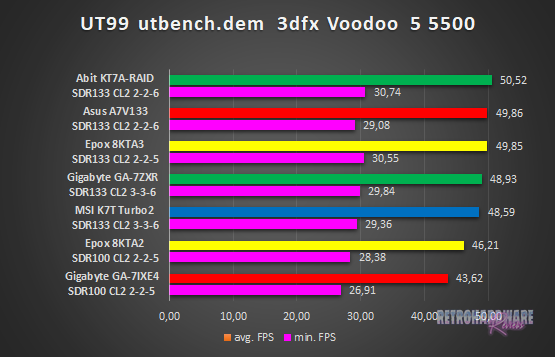 With the Voodoo 5 installed, the board ranks second to last again in the utbench timedemo, but fifth in the second timedemo. In this second timedemo, it is able to close the gap to the newer boards and matches the KT7A-RAID in average FPS, as well as the K7T Turbo2 in minimum framerate.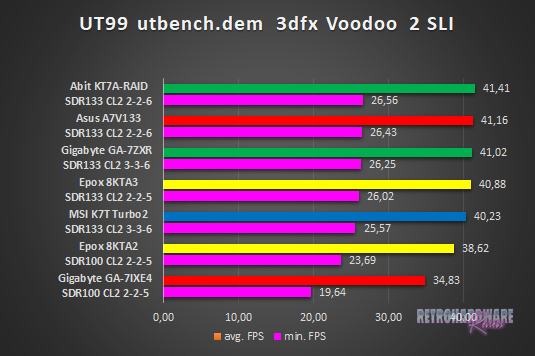 The EP-8KTA2 takes the second to last place again in both timedemos, but especially in the benchmark.dem timedemo, it still shows very good performance. Its average framerate is less than 1 FPS lower than that of the leading GA-7ZXR and its minimum FPS are the second highest of all boards tested.
3D Performance: Quake III Arena Timedemo
Quake 3 Arena was released shortly after Unreal Tournament, in December of 1999. It is known to reward fast memory latency and with its normal preset, it is completely CPU limited; at least for the GeForce 4 and the Voodoo 5. The Voodoo 2 SLI cards clearly limit the Athlon 1200 here, as the timedemo will show.
Version: 1.32
Settings: "Normal" Preset, only resolution changed to 1024x768x16
Geforce 5 and Voodoo5: OpenGL
Voodoo 2: "Voodoo" Renderer (miniGL)
The EpoX board takes second to last place again with the GeForce 4 Ti, as well as with the Voodoo 5. It is significantly faster than the GA-7IXE4 in both cases and comes close to the performance of some slower KT133A based boards while the 3dfx card is installed.
The Voodoo 2 SLI setup clearly limits here. All boards score the same FPS, with only the Gigabyte GA-7IXE4 being a close 0,2 FPS behind.
EpoX EP-8KTA2 (VIA KT133)
Layout

Features

Overclocking Options

Compatibility

Documentation & Support

Performance: GeForce 4 Ti 4200

Performance: Voodoo 5 5500

Performance: Voodoo 2 SLI
OVERALL
| | |
| --- | --- |
| Pros | Cons |
| + Perfect set of expansion slots (1/6/1 AGP/PCI/ISA) | – Limited to FSB100 |
| | – Many tall capacitors close to CPU socket |
| | – Lots of layout issues |
| | – Compatibility issues with memory |
| | – Possible issues with PCI expansion cards |